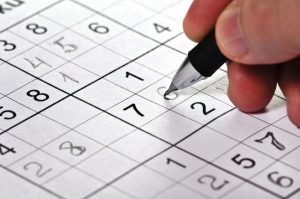 We create and supply a wide range of puzzles for newspaper and magazine publishers, whether for a single publication or for numerous publications within a publisher's portfolio. Our puzzles include all the favourites: crosswords, arrowwords, Sudoku, wordsearch puzzles, codecrackers, target words and general knowledge crosswords. We are also developing the capability to allow us to supply highly-specialised crosswords on a range of topics including pop music, movies, TV soap operas, celebrities and sport.
Puzzles are priced either individually or in batches. We also offer licensing deals for larger publishers to ensure the best and most competitive prices are available. We supply puzzles in PDF and/or RTF format and if page make-up is required, we can supply print-ready PDF files, e.g. in a tabloid page layout. Individual puzzle files can be supplied at much lower cost where publishers layout pages in-house.
Regular tabloid pages containing between four and seven puzzles can be supplied print-ready and the pages will be branded to suit your company or publication. Alternatively, we can supply the individual files for a similar quantity of puzzles where page make-up is handled within your organisation.
Puzzle booklets (ideally 16 pages or more) are also an attractive insert for readers. These offer opportunities for sponsorship from local or national advertisers. We can supply all of the puzzle content, including bespoke sponsor's puzzles and page make-up as a package. Contact us to discuss details at marketing@contentbureau.co.uk
Our puzzle products include:
Individual puzzles in PDF format
Made-up print-ready puzzle pages (PDF format)
Puzzle booklets – 16 pages or more
Puzzle books (paperback format)
Magazine content
Puzzles for online publication and games apps
Quizzes